Posted in
photo morphs
,
web sluts
on June 30th, 2019 by admin
So this one is a bit new, even for me. Anyone who likes inflatables will go crazy for this one. I've seen all sorts of pets, bunnies, kitties, puppies, ponies. Cows and pigs aren't even that rare. Frogs, I just haven't seen a lot of frogs. I give you froggy girl, in bikini bottoms.
The big question in my mind, is who is making inflatable frog feet!? Where do these things come from?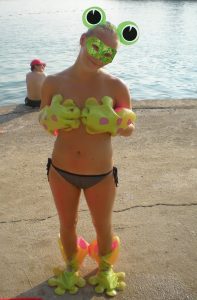 Tags:
bikini
,
frog
,
inflatable